TFL on Overcrowding Alert
The feverishly anticipated annual Humorous Speech and Table Topic Contests came around last Thursday night. Transport for London issued a Code Red warning that Central Line trains to Lancaster Gate would be seriously overcrowded between 18:30 and 19:00 hours and at one point the club committee held an emergency session to consider relocating to Wembley Stadium. Soon our venue was filled to bursting with enthused members, expectant guests and effulgent contestants. Judges and contestants were briefed and moments later, we were underway.
Armed and Dangerous
Paul Mitchell, the club President, delivered a series of rib-ticklers from the Edinburgh Fringe Festival (eg: "I'm not a fan of the new pound coin, but then again, I hate all change") and then the competition co-Chairs, armed with binders of paperwork, spreadsheets and panic, just about kept the evening on track. Many thanks to the highly experienced Chief Judge, Area Director, Rory Graves, who was aided by armed and dangerous Paul Mitchell, Sergeant at Arms (day job: accountant).
The Competition
We began with the Humorous Speech Contest in which our brave competitors regaled us with speeches that involved motor-cycle rider Dave Death (Andrew), the ramifications of being rammed by a ram (in a particularly sensitive spot—Michael R), all that's wrong with squabs (young pigeons, apparently—Mike B), how to survive a hangover (Enna) and why tugging your interviewer's beard is unlikely to land you that dream job (Vibesan). Many congratulations to Michael Rock whose well-structured and highly amusing "The Worst Day of my Life" pipped the other competitors and secured him a place in the Area Final (same location, 27th September).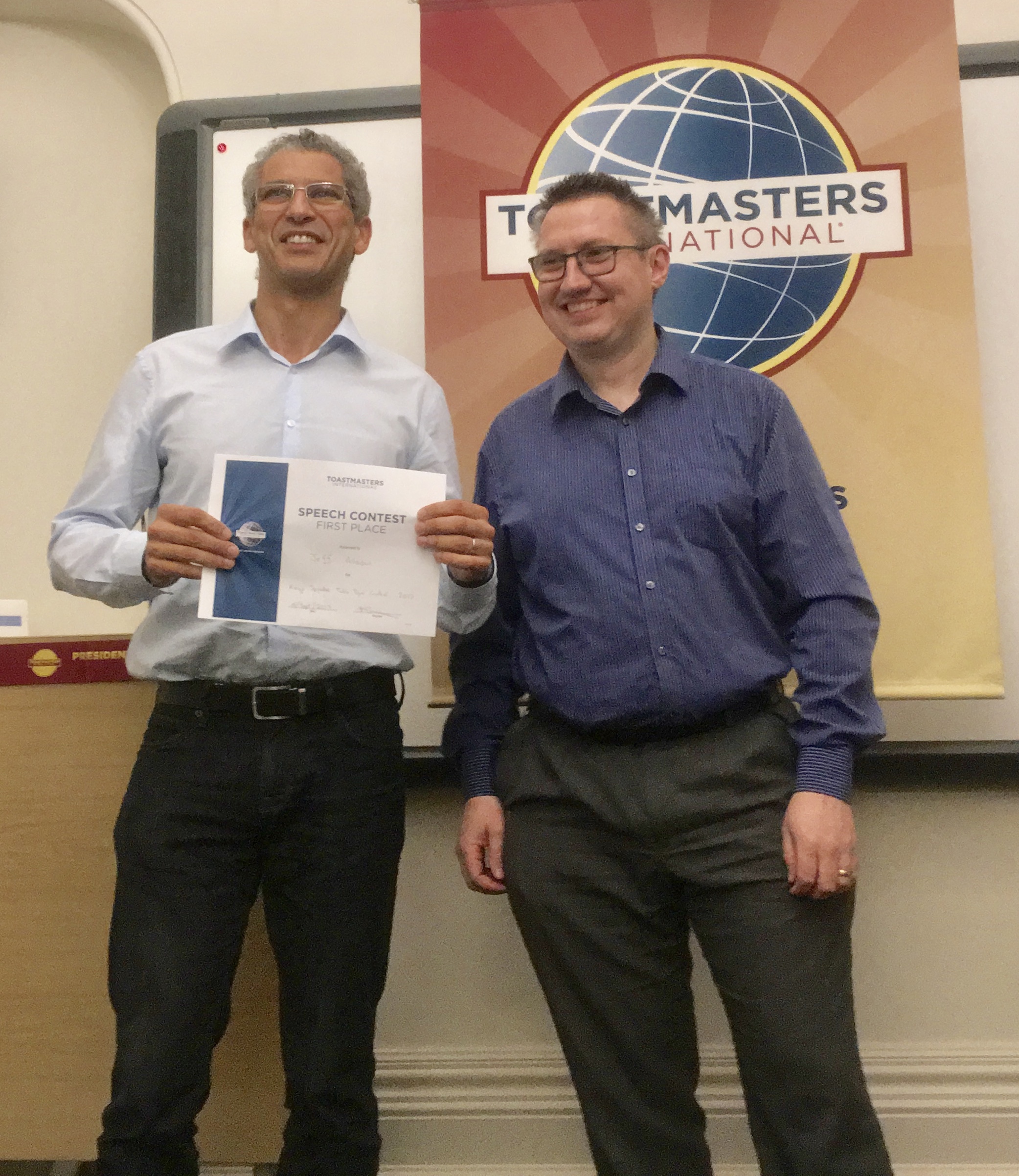 Robin successfully retrieved the secret Table Topic question, "If I could grant you one wish, what would you wish for?" from a bunker 4,000 feet below a North Korean mountain. It was cleverly and entertainingly answered by Andrew, Tony, Laura, Jeff and Vibesan. Jeff Alaoui triumphed and his ability to talk so elegantly and eloquently on his feet will be tested again on the 27th.
It was a fun-filled and memorable evening with friendships made and new members signed. Many thanks to everyone who undertook a role—Robin, Isabel, Victoria, Harminder, Jeff and Paul and judges Suzana, Brian, Rory, Rhys (Clerkenwell Speakers), Melanie (Holborn Speakers), Joann (104 Debate London). And a big congratulations to all the contestants. It was an evening in which everyone was a winner.