It was a cold November evening in 2013 when I first stepped into Kings Speakers, all thanks to my dear friend Iyanka and his persistent encouragement. I made sure I sat at the back where I could not be seen or heard. Even though it is a Toastmasters club for people who stammer or have social anxiety, you would never think it. The speakers performed with such confidence, like they were professionals. I felt very intimidated and at that point I would have never dreamed that 3 years later I would be the club's President.
Given the opportunity and with the support and encouragement of others, you'd be surprised at what you are capable of achieving. Toastmasters and especially Kings Speakers is an environment designed for members to learn and thrive in a supportive and safe space and the more you put into it, the more you will get out of it. While I had no ambition to become the president I was committed to overcoming my own fears and developing my skills. I made sure I attended and took part in every meeting and as a result of my dedication I was invited to serve on the club's committee. Slowly I moved up the ranks and became the Vice President of Education and as the Toastmaster year was coming to an end, the Club President Graeme and Club Founder Harminder suggested that I should be the next president. Really?? Me?? How could someone like me be a president? All of the past presidents where men in suits and I am just a simple girl… All sorts of thoughts came up of why I wouldn't be good enough to be the president, but then I said to myself… hang on a minute if Graeme and Harminder think I am capable of doing this, then surely I should at least try and who knows when I could get an opportunity like this again. Thanks to their encouragement and belief in me, it gave me the courage to take on the challenge.
The club was handed over to me in June 2016 and little did I know that I would have to lead the club through it's toughest year to date. There wasn't much time to settle in before I had to jump the first hurdle. Our beloved venue The Commander Bar was closing down and we urgently needed to find a new home for our club. Looking for a meeting room in a convenient location, close to a tube station at a very modest price in London is like looking for a needle in a haystack. The pressure was on. It was a nail biting search full of false hopes and with just days to go to the next meeting I had finally found our new home Number 63, just a minute's walk from the tube station, in central London and all within our tight budget. And just when I thought I could relax a little, the challenges kept coming. Some members dropped out of the committee due to work and other commitments putting extra pressure on senior members, our member numbers were dwindling and as a result our Vice President of Education Paul found it increasingly harder to fill the agenda and had to seek out Toastmasters from other clubs to help us out. The club was at it's lowest point and it was my responsibility to turn things around.
I had a vision to take the club in a new direction and wanted my leadership to leave a mark and make a real difference. The first thing I set out to work on was our branding and online presence. Kings Speakers didn't have a logo, a tagline or an up to date website. I felt these were really important in creating an identity and sense of purpose of what we are about and who we are. Our tag line - 'Transform your biggest weakness into your greatest strength' really sums up what we have set out to achieve as we all want to excel at the the very thing we struggle with. I had a very clear idea of how I wanted the new website to function and look but unfortunately I had no idea how to do it. We were so lucky to have Iyanka on our committee who is an expert in all things tech and design and I am so grateful for his patience when working with me and my fussiness and perfectionism and his incredible ability to materialise everything I had in my mind from the logo to the website. Having a blog was something I wanted to introduce as a way of not just communicating to the outside world but also for our own members to share their own experiences, which we can all find great value in. Our online presence and how we communicate to those interested through our subscription mailing list was a really important aspect of our marketing not by doing any hard sell but by simply letting people get to know us and what we're about. We launched our new website before Christmas 2016 and that comforting feeling that I could relax a little started to set in… Iyanka informs me he needs to leave the club due to work commitments. He always found the simplest solutions to our tech and design problems and we could have never have achieved all we did without him. What on earth am I going to do now? As much as I wanted to wallow in self pity, there was no time for that and I took it upon myself to carry on with the PR duties of maintaining the website and our communication with members and subscribers. Iyanka made that really easy for me by teaching me and supporting me all the way, and if I can manage all of this techy stuff then anyone can!
While attracting guests to the club was a big priority, building a strong and connected culture amongst our members is vital. It was really important to spend time together outside of the club and to give us a chance to get to know each other as people and create genuine friendships so after a meeting we always go to the pub next door for some banter and have a good catch up. I do love any excuse for a get together so I organised our Christmas social, a prime opportunity for members to show off their dancing skills. Unfortunately I have no photographic evidence of this but let me assure our members know how to boogie! And I couldn't wait all the way until next Christmas for another social so I organised a walk on Hampstead Heath in May. It was a great turnout and wonderful to create memories and spend quality time together away from Toastmasters. We even had an honorary four legged member joining us for the day!
To break up the monotony of meetings and to provide our members with an opportunity to gain new skills, I organised 2 workshops through out the year. We are very fortunate to have published author Ben Starling as one of our members and he very kindly created a workshop sharing some of his writing tips and tricks in a bid to Lift our Language and improve our speech writing. The second workshop was created by fellow Toastmaster and empowerment coach Christine Alaby where she gave us some practical tools to tackle nerves and feel more confident and empowered while giving a speech.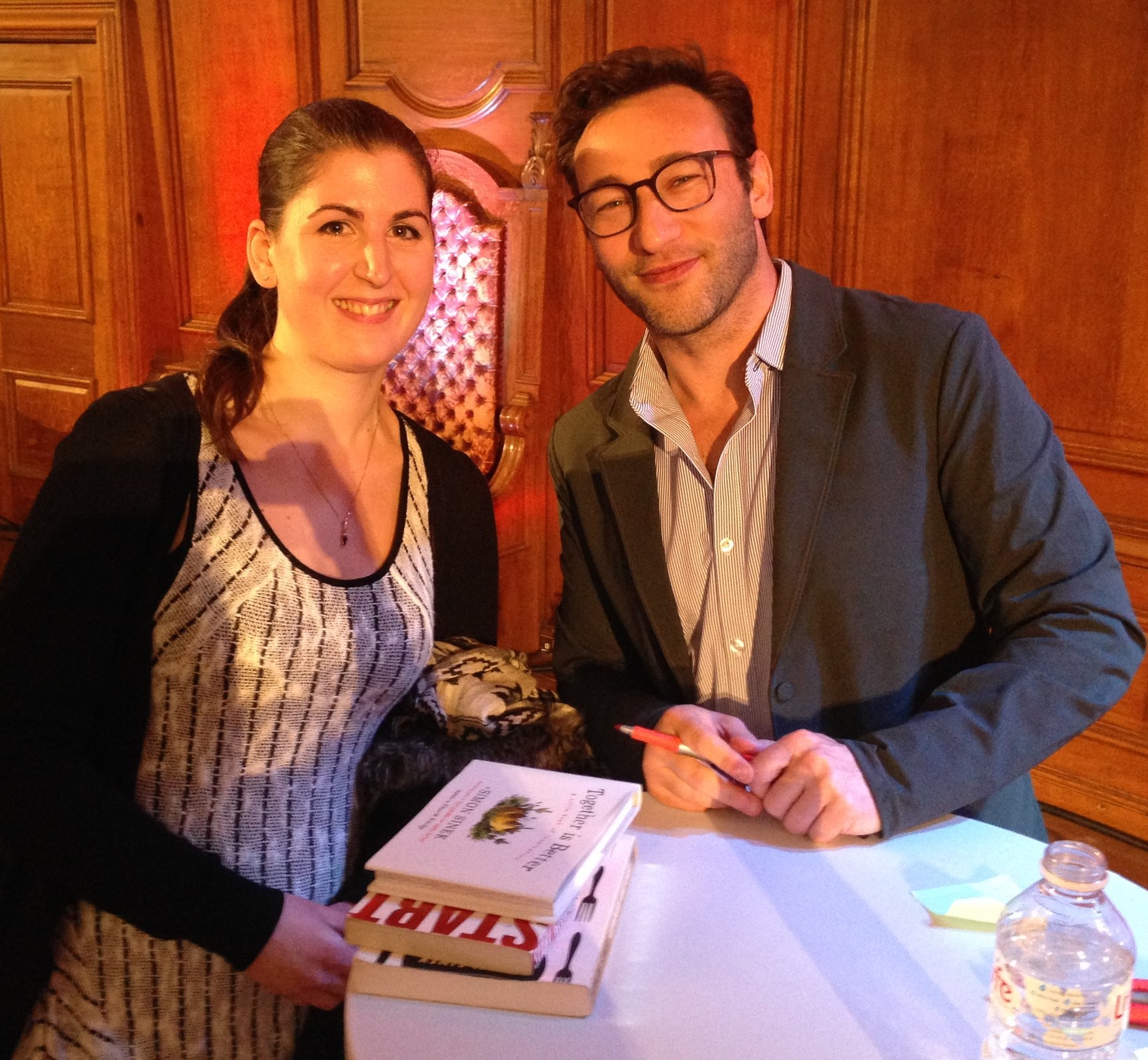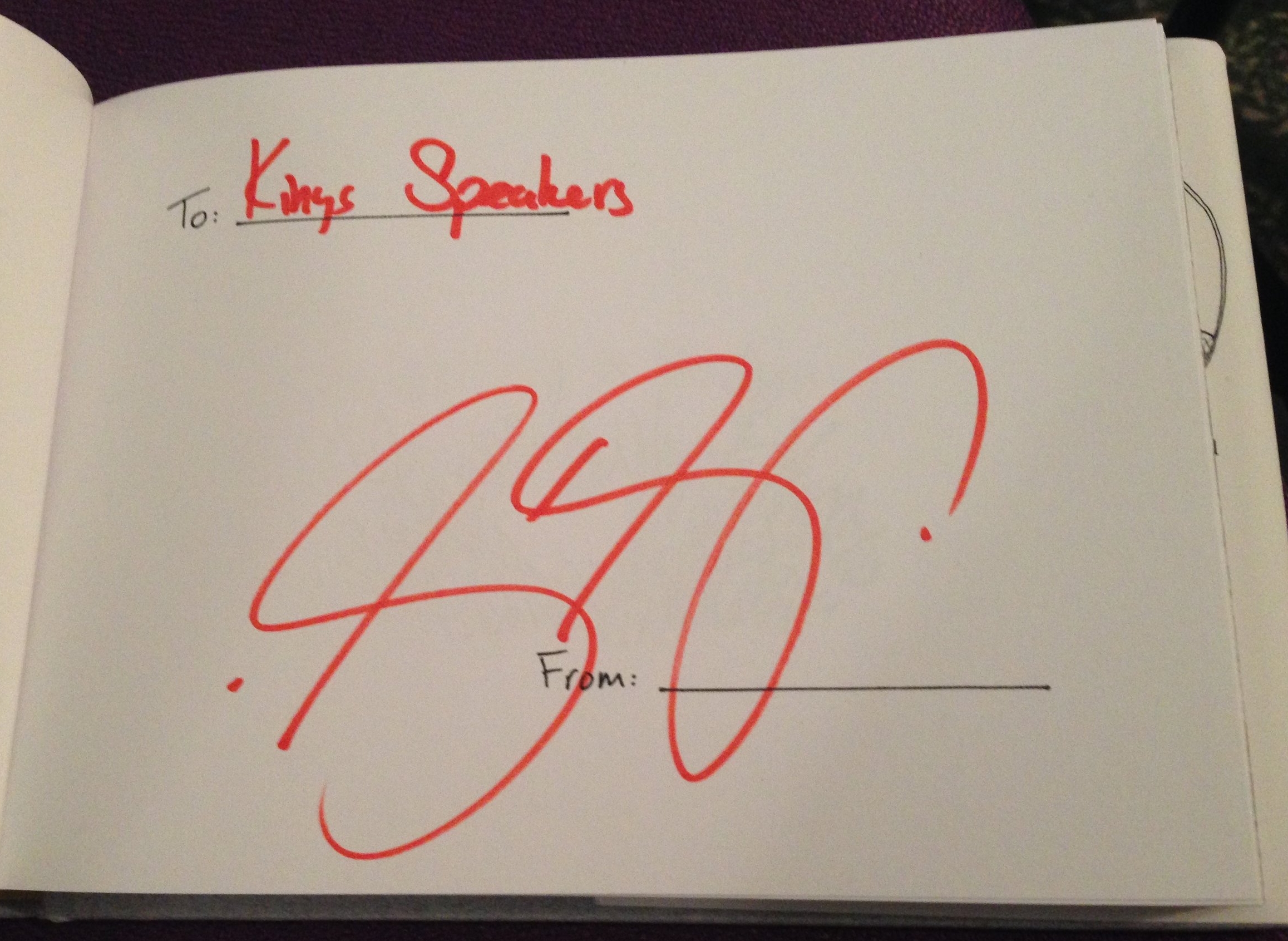 To develop my own skills and knowledge I wanted to learn as much as I could about leadership. I am a bit of a geek so I used any spare time to watch lectures and talks online as well as listening to podcasts when I'm cleaning the house or reading on my commute to work. One of my favourite leadership and public speaking experts is Simon Sinek. When I heard he was giving a talk in London I knew I had to be there. He was signing books after his event and I had the chance to meet him and asked him to sign books for Kings Speakers so that I could share Simon's work with the rest of the club and I was able to briefly tell him what we do and he absolutely loved it! Definitely one the highlights of the year.
One of the reasons why I love Simon's work is that he emphasises the importance of working together and taking care of each other and that is something that really stood out to me through out this whole year. My vision and hope was to turn things around for the club and I am absolutely delighted that we have indeed managed to do that. We have achieved 10 DCP points which is the highest amount of points a club can achieve making us a President's Distinguished Club. These points are made up of attending training, completing speech manuals, advanced manuals, leadership manuals, paying dues on time and taking on new members. We have also matched our record membership numbers. We have gone from struggling to fill the agenda to now struggling how we can fit everyone on the agenda. The reason why we where able to achieve all this is through great teamwork and taking care and supporting one another. Harminder was always there for guidance and advice and he played a key role in communicating with guests and turning them into members. Paul took excellent care of new members and got them settled in the club, organised mentoring and helped them to begin their Toastmaster journey as well as ensuring we had a packed agenda. Brian is always volunteering to help and has been a great support as well as inspiring us all with his Distinguished Toastmaster Award, the highest honour any Toastmaster can achieve. The rest of the committee and members have also shown so much dedication and made such valuable contributions to the club.
This blog is much longer than I had intended and there is so much I have missed out, but if I keep writing it will end up being a novel! I just wanted to share some of the main challenges and highlights of the year. I am as grateful for the challenges as I am for the highlights, because had it all been plain sailing I wouldn't have learnt a thing or grown as a person. It's been such a great year and experience, I've really loved it and I want to say thank you from the bottom of my heart for all of the encouragement and support and for giving me this opportunity, for believing in me and trusting me to lead the club, I can't express how much it means to me.
So if you thought Toastmasters was only about public speaking, think again, after all the Toastmasters tagline is - Where Leaders Are Made